SEBASTIANO VITALE BIO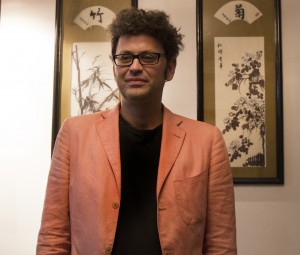 I've been working for the past 15 years in the field of art, mass communication and visual journalism.
I love telling stories and I use any possible form of expression to do it.
I began working in visionary media art with projects such as 80/81 and Hell.com that played a relevant role in the media art, discussed, presented and exposed in form of installation in several festivals, fairs, museums around the world (including SF MOMA, CITIA Annecy, BAM NY, ARCO Madrid, ZKM Karlsruhe, ARTISSIMA Torino, FIB Benicassim, LA VILLETTE NUMERIQUE, Paris) and reviewed by many of the major international news groups (CNN, BBC, El Mundo, El Pais, Liberation, Le Monde, Repubblica, Encyclopedia Britannica).
The process led gradually to the world of mass communication, creating campaigns as creative director for many brands and agencies (including FIAT, Olympic Games, Ogilvy, RAI, Grazia Neri).
In 2009 I published Diari di un Aristopunk, a fictional book.
COCALAND, a multimedia project regarding narcotraffic in Bolivia, has been selected amongst the 5 projects of the year within MIPDOC, Cannes 2009. Now COCALAND is a video-concert, live music, live video, with a text written for me by a former cocaine producer.
In 2012 I did the creative production for a massive scale  installation (50 meters of videowalls) in Atlanta Airport new terminal.
In the past years I have been working as freelance photojournalist for various magazines.
In 2010 I began working on The Raw Horse, a large scale fine art photography project about horses.